Apply Visa to Thailand in Kolkata (India)
TOURIST
General Information

TOURIST
Overview
This type of visa will be issued to applicants who wish to enter the Kingdom for the following purposes:
to travel to Thailand for tourism purpose (category "TR")
to attend medical treatment in short term not exceed than 60 days (category "MT")
Documents Requirement
Secure your travel and be at peace. Get your travel insurance from the below:
1. Care Insurance: Click Here
2. Reliance Insurance : Click Here
The applicants must submit the following relevant documents, depending on the purpose of their visit:
Passport or travel document with validity not less than 6 months with TWO OPPOSITE BLANK PAGES
Visa Application Form completely filled out.
Two recent photographs of the applicant (3.5 x 4.5 cm) against white background.
Evidence of Transportation (Any of below)
Confirmed tickets in and out of Thailand
Evidence of adequate finance (Any of below)
Original receipt of endorsement of $700/person or
Original Bank Statement from last month with minimum balance equally as $700/person with bank stamp and signature or
Credit Card issued by a bank or financial institution along credit card statement from last month.
Proof of hotel/accommodation reservation in Thailand
Reserved under applicant's name covering total number of days wished to say in Thailand
If intend to stay with relatives or friends must provide invitation letter along with their ID/passport photocopy. In case they are not Thai, must provide their working records in Thailand, e.g. work permit, letter from company they are working with valid at least six months.
International Health Certificate on Yellow Fever Vaccination for applicants traveling from 45 countries
* 3.5 x 4.5 cm., not older than 3 months with white background, face and eyes are in direct position to the camera, without sunglasses or hat or any other head covering, except for some religious beliefs or ethnic background.
** All documents must be in English and arranged in order given above.
*** If required, additional documents and/or an interview may be requested.
**** Validity of visa denotes time period during which a traveler can use the visa. Period of stay denotes amount of time the traveler can stay in Thailand.
In case of group of travelers guaranteed by private travel agent or sponsored by public/private corporate. However, the agent/corporate must issue a guarantee/sponsor letter which is signed by authorized person and attached with the list of group members citing details (name and passport details of each individual, confirmed return flight information and hotel reservation of the group.
Proof of adequate finance under the company's name should be submitted along with guarantee/sponsor letter when the tour is guaranteed by private travel agent or sponsored by public/private corporate.
Kindly Note:-
If required, you may be requested to bring additional documents by The Royal Thai Consulate .
Download the checklist
Photo Specifications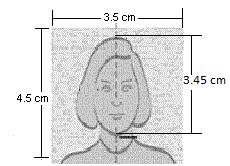 No. of Photos Size
Transit Visa
2
3.5 x 4.5 cm
Tourist Visa
2
3.5 x 4.5 cm
Non-Immigrant Visa
3.5 x 4.5 cm
1.A person who always wears white for religious purpose, the photographs can be taken against a light blue background.
The Royal Thai Consulate has full right to ask applicant to change the photo due to the followings…

Photo which applicant's face and eyes are not in direct position to the camera:
Photo with background color different from the above mentioned.
Photo which is obviously cut or crop from other photo.
Photo without teeth visible
2. The photographs should be clear and of good quality, and should be printed on normal photographic paper. Please note that we will be unable to accept photographs that do not meet these specifications.
Photo which the border between applicant's body and background is unclear no matter what reason (scanning, printer, etc.
Photo which is printed by printer which generates dots or lines on the paper and make photo bad quality.
3. Your full face should be visible. The photograph should be taken without sunglasses and without a hat or any other head covering, unless you wear such an item because of your religious beliefs or ethnic background.
Kindly Note: - The Royal Thai Consulate has full right to ask applicant to change photo if the above specifications not met.
Processing Time
Kolkata Indian residents and foreign nationals applying for Transit, Tourist and Non-Immigrant Visas can submit their applications at the BLS Thailand Visa Application Centre geographically convenient to them
Thailand Visa Application Centre BLS INTERNATIONAL
S201 South Block Second Floor
11/1 Ideal Plaza, Sarat Bose Road
Kolkata - 700020(INDIA)
Submission Timings: Individual Applicants –09:00 to 15:00 (Monday-Friday)
Processing Time will be approximately 3 working days
Note
If there is any further verification required on the submitted documents there will be a further delay in the above mentioned processing time.
The travel date should be minimum seven working days from the date of submission at Thailand visa application centre.
COLLECTION TIMINGS: - Monday to Friday 16:00 to 17:00
WEEKLY OFF: - SATURDAY & SUNDAY
For more Information:
Call on Helpline No.:- 0120-6917551 , between 09:00 – 17:00, Monday-Friday except Holidays.
Email: - infothaieast@blshelpline.com

Visa Fees
| VISA CATEGORY | FEE | VALIDITY OF VISA | VALIDITY OF STAY |
| --- | --- | --- | --- |
| Tourist Visa (Single entry) | INR 2500 | 3 Months | Permitted to stay for a period not exceeding 60 Days. |
Visa fee listed above is per applicant
BLS SERVICE CHARGES / OPTIONAL CHARGES
Service Charges to be paid per application in addition to the Visa be INR 500 per application. There will be no slab till further update.
Optional Courier Service
| SERVICE | BENEFITS | CHARGE(PER APPLICATION) |
| --- | --- | --- |
| Courier | Passport delivery at your home / office address | Rs. 400 /- (Inclusive of all the taxes) |
Kindly Note: -
All fees and charges are non-refundable, even if the application is refused or withdrawn
The above service offering are optional
The fee mentioned includes Goods and Service Tax- SGST @ 9% and CGST @ 9%
Applicants are requested to collect appropriate receipts while opting for these services
Download Forms
East India
Please check the list of requisite documents before submitting your application. The guidelines listed on this site will help you prepare your documents as accurately as possible. This will minimize chances of rejection of your Visa Application due to incorrect or inadequate documents.
Thailand Visa Application Form for Kolkata
Visa form click here.
Last Updated at: 04/08/2022