Apply Visa to Thailand in Kolkata (India)
CATEGORY O (MARRIED WITH THAI CITIZEN)
Overview
This type of visa is designed for applicants who wish to enter the Kingdom to stay in Thailand as he/she married to Thai citizen.
Documents Required
Secure your travel and be at peace. Get your travel insurance from the below:
1. Care Insurance: Click Here
2. Reliance Insurance : Click Here
1. Passport or travel document with validity not less than 6 months with Two Blank Pages, and is not damaged.
2. Visa Application Form: Visa Application Form :Duly filled & Signed
3. Two recent photographs of the applicant. Please check details under the tab Photo Specifications.
4. Confirmed inbound ticket to Thailand
5. Original request letter from Thai spouse addresses to the Royal Thai Consulate-General, Kolkata to issue non – immigrant visa to the applicant. The letter must indicate detail of the applicant's stay in Thailand, such as address and sponsorship
6. Original marriage certificate and a photocopy
7. Copy of spouse's Thai I.D. card certified by holder
8. Proof of adequate finance of the sponsor which shows the flow and source of income of the sponsor.
For All Visa application Covid Vaccination Certificate and Aadhaar card is required.
Photo Specifications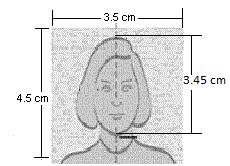 Colour photographs
Not older than 3 months
Size 3.5x4.5 cm
White background
Dark coloured clothes
Full face must be visible, with face and eyes in correct position to the camera, and teeth invisible.
No sunglasses, hat or any head covering (unless it is warn due to religious beliefs)
Photographs must be clear, of good quality, and are not digitally modified.
Note: The Royal Thai Consulate-General Kolkata has full right to ask applicant to change the photographs.
Processing Time
Processing Time will be approximately 3 working days
Note :
If there is any further verification required on the submitted documents there will be a further delay in the above mentioned processing time.
The travel date should be minimum seven working days from the date of submission at Thailand Visa Application Centre.
Visa fees and Logistic fees
| VISA CATEGORY | FEE | VALIDITY OF VISA | VALIDITY OF STAY |
| --- | --- | --- | --- |
| Non-Immigrant Visa (Single Entry) | INR 5000 | 3 Months | Permitted to stay for a period not exceeding 90 Days unless otherwise instructed by the Immigration Bureau. |
| Non-Immigrant Visa (Multiple Entry) | INR 12000 | 6 Months or 1 Year | Permitted to stay for a period not exceeding 90 Days (each entry) unless otherwise instructed by the Immigration Bureau. |
Visa fee listed above is per applicant
BLS SERVICE CHARGES / OPTIONAL CHARGES
Service Charges to be paid per application in addition to the Visa be INR 500 per application.
Optional Courier Service
| SERVICE | BENEFITS | AMOUNT (PER APPLICATION) |
| --- | --- | --- |
| Courier | Passport delivery at your home / office address | Rs. 400 /- (Inclusive of all the taxes) |
Kindly Note: -
All fees and charges are non-refundable, even if the application is refused or withdrawn
The above service offering are optional
The fee mentioned includes Goods & Service Tax- SGST @ 9% and CGST @ 9%
Applicants are requested to collect appropriate receipts while opting for these services
Download Forms
East India
Please check the list of requisite documents before submitting your application. The guidelines listed on this site will help you prepare your documents as accurately as possible. This will minimize chances of rejection of your Visa Application due to incorrect or inadequate documents.
Visa form click here.
Last Updated at: 04/08/2022